Holiday Scentsy Bricks are coming back, with a new shape!
Holiday Scentsy Bricks are returning this year — this time with a festive new twist!
Candy Apple: Tart green apples with a sweet candy accent. *Previously called Winter Candy Apple.

Cozy Kitchen: Warm up to a blissful batch of warm oats with brown sugar and a spicy cinnamon swirl.

NEW! Forever Flannel: Get comfy with soft lavender, warm sandalwood and an inviting touch of bergamot.

NEW! Holly Jolly Cider: Warm apple cider infused with cinnamon stick and a whiff of evergreen.

NEW! Orange Spice & Everything Nice: Freshly brewed winter orange tea with hints of mulled spices and vanilla bean.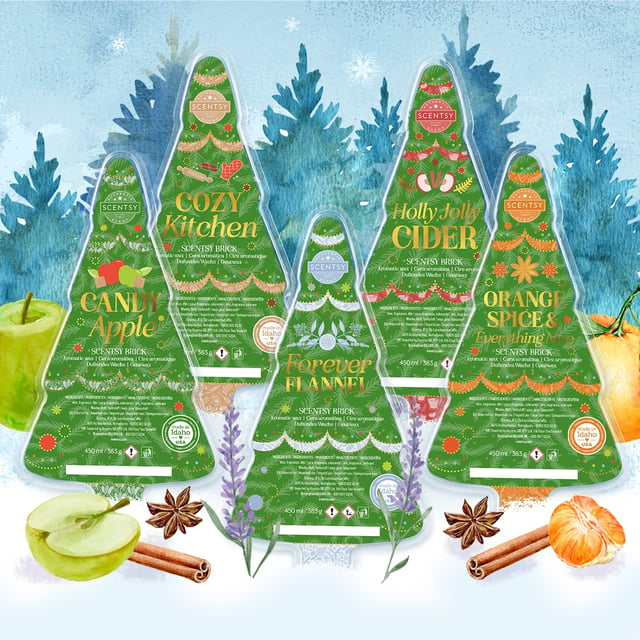 These five bricks are shaped like Christmas trees and include labels with beautiful gold foil accents to add extra cheer to the season. This collection is available to everyone starting 16 October with the options listed below.
They are available individually at the price of 33,71€, in a pack of 2 for 56,51€ or a pack of 5 for 125,91€ (prices shown here are for Luxembourg). If you'd like to know the price for any other country, don't hesitate to reach out ! Please note: The wax in our Holiday Scentsy Bricks may experience cracking. This is due to the unique shape of the brick's packaging. Unfortunately, the cracking cannot be prevented, and we will not be issuing refunds for cracked bricks. But don't worry, this does not affect the quality of the fragrance experience.